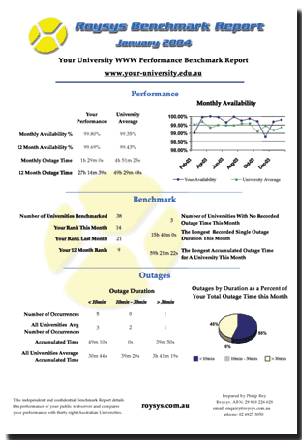 The Roysys
University WWW Performance
Benchmark Report
details the availability performance of your web site and compares your performance to other Australian Universities.
Roysys monitors the availability of 38 Australian Universities to provide you with an indication of how the performance your public web service compares to industry peers.
For just $880 per annum, a subscription to the Roysys Benchmark Report will provide you with monthly reports that help you gauge the performance of your services.
Roysys will benchmark additional services for just $450 per annum, and can provide you with email and SMS notification of outages to your services from just $380 per annum.
Open a sample copy of a
Roysys Benchmark Report
for more details.